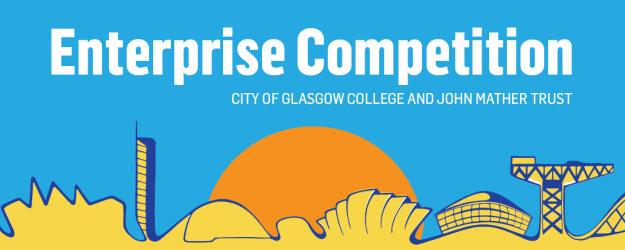 JOHN MATHER TRUST ENTERPRISE COMPETITION
This is a business start-up competition open to all City of Glasgow College students. There is a £10,000 grant available to be divided and allocated to entrepreneurs who present potential business opportunities.
You should attend an Ideas Generation Workshop with Alan Gordon of Young Enterprise Scotland (YES) to help you complete the business model canvas, a simple one-page document. There will also be drop-in appointments for advice available during November which can be arranged by emailing alan.gordon@yes.org.uk 
November - Drop In 1-2-1 Advice
By appointment at City campus C06.92.
Digital Skills Workshops from Facebook
There are also certified Digital Skills workshops available on Facebook where you can:-
Learn from the best trainers in Scotland (Apple and Google trainers).
Develop the confidence and skills you need to be employable in a digital economy.
Track your progress through the Future Workforce Model.
Make new friends and network.
Workshops are available in:-
Innovation - Come up with the next big idea and prototype it - app creation.
Social Marketing - Learn the four-step process for success on social media.
Web Presence - Learn how the web works and how to build a website.
Artificial Intelligence - Understand the foundational concepts of AI and how it works.
Cyber Security - Understand the vulnerabilities of the web, and how to protect online.
Making Decisions with Data - Get the tools to make more effective data.
For Facebook workshops email donna.wilkins@cityofglasgowcollege.ac.uk.  A link will be sent to those that have engaged in Stage 1 of the competition.
STAGE 1
The objective of the first stage of the enterprise competition is to encourage the development of good ideas and not business plans at this early stage.  Your idea could lead to researching, networking and preparing your business planning for your future... while continuing your studies, gaining some experience in the workplace, the start of a part-time business or launching your business on a full-time basis.
The programme is designed to build your ideas, confidence and business skills to take forward with support from successful entrepreneurs, business advisors, and support organisations such as our partner Young Enterprise Scotland and their knowledgeable staff. 
You'll be asked to submit the following to innovation.comp@cityofglasgowcollege.ac.uk
Full Name/Student Number
College course.
Mobile Number.
Email address.
Business Model Canvas (your proposed idea).  Template issued at workshops/meetings.
Please submit your entry on the Business Model Canvas by email to innovation.comp@cityofglasgowcollege.ac.uk  and ensure that your entry is acknowledged.
The deadline for Stage 1 is Monday 9th December.  Entrants will be notified by Friday 20th December of the panel's decision and Stage 2 progression.
Your business plan canvas and proposal will be reviewed by an experienced panel with entrepreneurs from industry, Young Enterprise Scotland and City of Glasgow College (Student's Association, Student Services/Careers, Business Development and the Faculty of Creative Industries)
Those business proposals that demonstrate potential will progress to Stage 2.
Stage 2 (from January 2020)
There will be a series of workshops and enterprise events you will be invited to through Young Enterprise Scotland, Bridge to Business and City of Glasgow College.
Lesley Wood, Director of LMW Consulting Ltd, is our appointed Digital Marketing Enterprise Advisor & Expert and will be running workshops and supporting the marketing of your business planning.
Alan Gordon, Programme Executive of Bridge 2 Business will run specific workshops to support all other aspects of business planning including sales, cash flow, finance, legal etc.
1-2-1 Advice sessions will continue to be available with Young Enterprise Scotland based in C06.92.  Email alan.gordon@yes.org.uk to arrange an appointment on Tuesdays and Thursdays.
Stage 3 (April 2020)
Stage 3 is the final stage and provides the opportunity to present a 10-minute business pitch in front of a panel of judges.  This will be followed by a 5 minute Q&A that will also refer to your submitted business plan.  Judges will include Young Enterprise Scotland/Bridge 2 Business, entrepreneurs and business supporters of the John Mather Trust Enterprise Competition.
A panel of judges will consider each application on merit and allocate the funds in response to the quality of each entry. This is grant funding, to support your idea or business, not a loan. Your challenge is to convince the judges your idea has potential. 
Feedback and final decisions will be issued following the presentations.
Study Visit Opportunity to Holland
An Entrepreneurial Journey: Live and work in Holland for 3 weeks on a Bridge 2 Business placement
3-week business placement, organised by the Dutch Foundation for Innovation.
Fully funded through the Erasmus Plus Programme for 6 candidates.
An Entrepreneurial Journey (AEJ) is a joint Erasmus Plus project undertaken collaboratively by the Dutch Foundation of Innovation and YE Scotland. It is designed to offer the expansion of Youth Enterprise and Employability into new European markets. AEJ provides College Learners and recent Graduates the opportunity to learn from European partners through an interactive and challenging three-week Employability and Enterprise project in Holland, with travel & accommodation arranged. Reasonable expenses, including food, commuting and culture trips are paid, and support is provided throughout with the Dutch partners.
Awards Ceremony
There will be a celebratory awards ceremony for all participants and supporters that will include your family and friends.  All candidates will receive a formal certificate as a John Mather Trust Enterprise Competition Finalist.  Grant cheques will be issued and publicity across relevant media promoting your success and business proposals will be actioned.
Post Support
Candidates will continue to be supported by City of Glasgow College, Young Enterprise Scotland, Bridge 2 Business and relevant networks following the end of the competition/session regardless of future destinations.
Contact
All general enquiries should be directed to Jacquie Shaw, Associate Dean, Faculty of Creative Industries (Media)  jacquie.shaw@cityofglasgowcollege.ac.uk