Winter Break COVID-19 Student Testing Programme Begins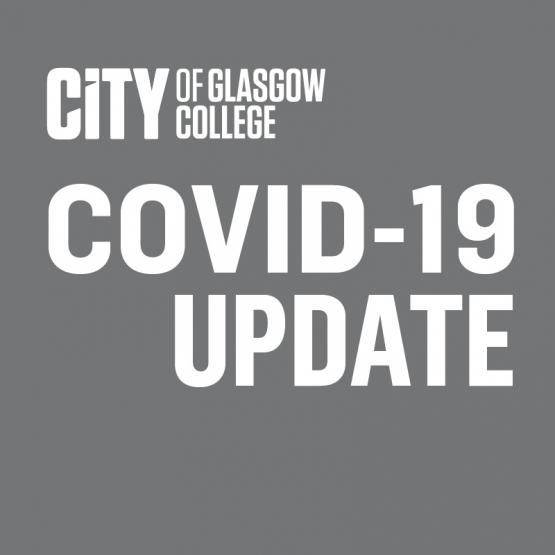 Partnership with Glasgow Caledonian University gives students two free tests.
City of Glasgow College is partnering with Glasgow Caledonian University (GCU) to help get students home for Christmas. A new Student Test Site will run from Monday 30 November until Saturday 12 December 2020 and will be open from 10am-6pm offering two free voluntary tests to City of Glasgow College, GCU, Royal Conservatoire of Scotland and Glasgow Kelvin College students wishing to travel home for the festive period.
The tests, to be taken three days apart, are designed to identify students who carry the virus but are not displaying COVID-19 symptoms. Testing will help to break the chain of transmission, especially when students may be unaware they have the virus, and help to ensure the safety of their loved ones back home. ​
Working with NHS Test & Trace, the on-campus testing site will be located in Glasgow Caledonian University's CEE building operating Monday to Saturday. It is completely separate to the existing UK Government-run COVID-19 testing centre set up in the ARC sports centre in September.
The Lateral Flow Tests are administered by GCU trained personnel and do not require laboratory processing to turn around results rapidly. Students will be notified of their test results within 24-hours or sooner.
Although voluntary, students are being urged to get tested twice at the earliest opportunity to give them enough time to get full results back before heading home to their families. GCU has also set up a dedicated online booking system to help speed up the process.
If students receive two negative tests, they will be advised to return home immediately. Should a student test positive in either of their tests, they will be legally required to self-isolate for 10 days together with others in their household. They will also be advised to book a further confirmatory test at an NHS test centre as soon as possible to give them time to get home for Christmas if they get the all-clear.
Since September, GCU's ARC sports centre has been transformed into a key walk-through COVID-19 test centre to serve the local community of Glasgow. The centre enables anyone with coronavirus symptoms, including students, GCU staff and members of the public, to get a free swab test.
Dr Sheila Lodge, Depute Principal of City of Glasgow College, said:
"We are delighted to be working in partnership with Glasgow Caledonian University and greatly appreciate their support in offering free, voluntary, asymptomatic coronavirus testing to any student planning to travel home for the Christmas holiday.
"The health and safety of our students is our top priority, and this is a reassuring initiative for our students and their families, providing another layer of protection against the transmission of COVID-19, and assisting the Scottish Government and health authorities in their determination to suppress the virus."
GCU's Principal & Vice-Chancellor, ‌Professor Pamela Gillies CBE FRSE, said:
"After a year like no other, I think it's really important for students to be able to travel home to their families and loved ones this Christmas. Their safety, and that of their families is paramount. That's why it's so important that those students travelling home book their free tests now and take them between November 30 and December 12. Even if they do test positive and have to self-isolate for the required ten days, they will still have enough time to get home for Christmas.
"We are also delighted to extend the new GCU Student Test Site to students from the Royal Conservatoire Scotland and Glasgow Kelvin College. The setting up of the facility in such a short period has been a real challenge, but I've no doubt that by us all working together, supporting each other, and doing what we can to support the nation's emergency response, we will be able to overcome the challenges we face and emerge stronger."
Professor Jeffrey Sharkey, Principal of the Royal Conservatoire of Scotland (RCS) said:
"On behalf of RCS community I'm really grateful to our friends and neighbours at Glasgow Caledonian University for the opportunity to partner with them for testing of RCS students at the Student Testing Site on their campus.
"Our warm thanks go to everyone at GCU who has worked so hard to set up this facility. I'm gratified to see the terrific response from RCS students to this Covid test opportunity and encourage everyone who can benefit from this service to book in as it offers reassurances to them and their loved ones before they are reunited for the winter break.'