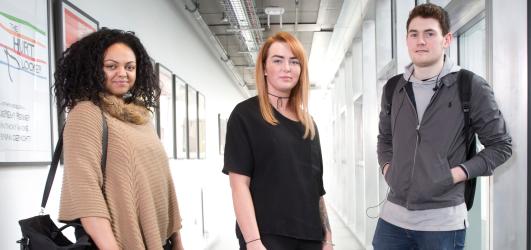 As Scotland's largest college we have fantastic courses and state-of-the-art facilities at our City or Riverside campus in the city centre of Glasgow​.  We work in partnership with many schools across Glasgow and Scotland and are always keen to engage with more. 
We offer over 2000 full-time courses across a range of subjects, with over 90% of our successful students progressing to university, apprenticeships or employment.
In order that we can respond to all requests quickly please use the contact details below.
Schools Marketing
For requests relating to: 
Representation at your school's Careers Events.
Presentations/talks aimed at school leavers. 
Tours of our award-winning twin site super campus.
Tasters days.
Information about Open Days.
Contact - schools.marketing@cityofglasgowcollege.ac.uk 
Schools Partnerships
Rowan Maguire is the key contact for schools' partnerships – these are courses designed for pupils who would like to study a course at college whilst still at school.  We have more than 1,000 school students studying in over 80 courses including Accounting and Financial Services, Engineering, Social Services and Health Care, Professional Cookery, Creative Digital Media, Hair & Beauty and more.  
Due to ongoing social distancing and infection control measures, our schools partnership courses for academic year 20-21 will not have as many options as previous years. This decision has been taken to ensure the health and safety of all of our students and staff. It has not been possible to safely offer the same opportunities this year, although we are already planning for 2021/22 and hope to be able to offer a full range of courses then. Please revisit these pages for updates throughout the year or speak with your guidance teacher if you are considering a Senior Phase option.
There is more information on Foundation Apprenticeships, Senior Phase courses and School programmes below, or have a look at the prospectuses below:-
Senior Phase Regional Handbook 2020/21.
Contact - rowan.maguire@cityofglasgowcollege.ac.uk
Scotland's Biggest Parent Event
Scotland's Biggest Parents' Events are a series of four event broadcasts, which allow parents, carers and guardians to hear about the things that matter to them right now.  They provide parents and carers with information about options and pathways for young people, including where they can go to make informed judgements to support their young person's next steps.
With input from a range of experts covering topics such as exams, mental health, apprenticeships, skills development and pathways into industry, the events are also beneficial to young people themselves and aim to provide a message of reassurance and optimism at this challenging time.